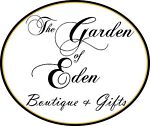 The Garden of Eden Boutique
is here to bring you a unique selection of fine women's apparel, accessories and gifts, specializing in items you just will not see many places.


By and large, the vast majority of our fantastic finds are made in the USA, featuring several small artisan shops. In addition, we intentionally find items that travel fabulously well, so you can plan that next getaway with ease...and leave the steamer at home!

Browse some of our most popular styles below, or, for our best selection, please check out our ebay store!
The Garden of Eden on Ebay!